The Silver Strings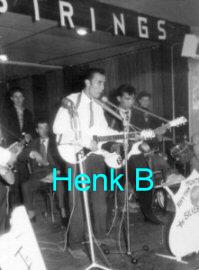 THE SILVER STRINGS uit HEERLEN

Bezetting:
Eddy Hunter †
Harry Hunter
Rudy Hunter
Jack Hunter
Wiel Frings (saxofoon)
John Tanamal (?)
Tonny Kuypers (zang


De band The Silver Strings van de 4 broers Hunter uit Heerlen was sedert het midden van de jaren vijftig actief in Limburg en Duitsland. Ze traden ook op onder de groepsnamen:
The Hunters, The Hunters Rhythm Boys en The Hunters Hawaiian Serenaders.
Begin jaren zeventig is de band voorgoed gestopt.
Ze fungeerden jarenlang als huisorkest in Het Kegelpaleis te Heerlen. Hun optredens tijdens rock & roll- en teenageravonden waren een groot succes

De single uit 1964: Shake The Last Dance With Me / Oh Lonesome Me (Philips PF 345.736) is van Scotty & The Silver Strings uit Duitsland.